1. Beachfront Properties Tend to Achieve a High Return on Investment
Mypass-a-grille.com – While you are likely buying a home as a long-term asset, it is hard to deny the investment potential that beach properties have. Beachfront real estate tends to do very well over time, and there is a very strong chance that your beach house will appreciate in value while you own it. It is often said that real estate is one of the best investments for the average American, and beachfront properties are one of the best places to start looking. While they can be expensive to buy in the first place, their values typically rise substantially over time. This is especially true in areas that are on the cusp of becoming major tourism hubs, but is true in most popular beach areas, too.
2. Living Near the Beach Leads to Reduced Stress Levels
It has been clinically proven in several studies that living near the beach is very beneficial for your health. From the calming sounds of the ocean waves to the increased amounts of vitamin D from the year-long sunshine, your health will likely improve in some way by living near the beach – even if you don't alter your daily routine. The sea breeze, ocean water, and drawn-out sunshine all offer health benefits that are unique to beachside areas and are a major advantage of living near the beach.
3. People Living Near the Beach Tend to Get More Physical Activity
While the sea breeze and sunshine are said to do wonders for your health, most people living near the beach tend to lead a more active lifestyle than they do elsewhere, too. From the proximity to the beach to the warmer weather year-round, beachy areas tend to inspire inhabitants to get out and move more than inland areas. In a time where sedentary lifestyles have become very common, this advantage is incredibly valuable and can add joyful years to your life.
4. Popular Beach Areas Are Filled with Amenities and Entertainment Options
While every beach area has its own charm, major beach areas are absolutely loaded with amenities. Myrtle Beach, for example, is designed to host millions of visitors every year. This means that the city and its surrounding area are equipped with enough grocery stores, restaurants, and entertainment venues to occupy the large crowds that attend during the busy season. As a resident, you get to take advantage of these areas all year long!
These areas are often filled with water parks, world-class restaurants, movie theaters, farmer's markets, and more, and residents get to take advantage of them often at a more favorable price than tourists.
5. Beaches Have Some of the Best Sunrises and Sunsets
If you are a nature lover, you know that it is pretty hard to find a better sunrise or sunset venue than the beach. This is because beaches are situated right against the ocean, which backs up directly to a wide-open horizon. This endless stretch of water creates the perfect undisturbed backdrop for sunrises and sunsets, which are both incredibly gorgeous and calming. If you live near the beach, you can take advantage of these views as often as you want. Hello, sunrise walks on the beach!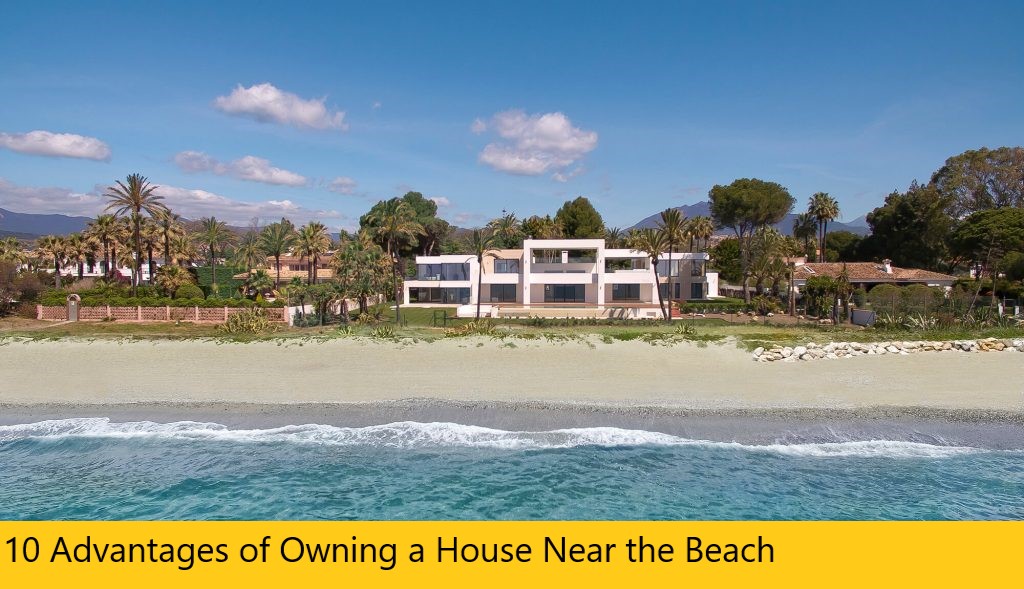 6. Beach Houses Make Great Rental Properties
Many people buy a beachfront house to be their primary residence. However, many others buy them as a second property or vacation home. If you fall into the latter group, you can choose to rent out your beach house during the times that you are not occupying it. Beachfront houses and condos tend to make great rental properties, as there are always people looking to visit the beach and stay in comfortable accommodations. This creates a unique opportunity to generate passive income, that in many cases can even pay your monthly dues on the property itself!
7. You Likely Will Not Need to Move When You Retire
Not everyone moves when they retire. However, many people do choose to! After decades of long, hard work, many people seek peaceful, warm areas to call home for the rest of their days. If you already live in an area like this, you may be in less need to search for a new home after you call it quits at work. This is especially beneficial for people who appreciate stability and like to really turn their house into a "forever home."
8. The Offseason Is Quiet and Tranquil
Most popular beach areas have a busy season and an off-season. While the busy seasons can certainly be hectic, the off-seasons and shoulder seasons are a major highlight. As we mentioned earlier, these areas are loaded with amenities like restaurants, grocery stores, and entertainment venues. When the tourist droves go home for the year, you are left with all of these amenities at your disposal!
Imagine being able to visit popular, tourist-favorite restaurants without having to wait in a line that wraps around the corner! For the majority of the year, this is what you get as a resident of a beachside area.
9. The Weather Is Often Better than in Inland Areas
Beach areas often have comparably better weather than areas further inland. This is largely due to the presence of the ocean, as it helps to keep temperatures relatively consistent throughout the year. It isn't necessarily that the sun shines any harder in these areas, but rather that the ocean helps to draw heat away during the summer and provides stored heat in the winter. These areas often experience much less temperature variation between seasons as a result.
While there are certainly advantages to having four distinct seasons, many people simply do not want to deal with snow and ice. While beaches in Massachusetts often still have to deal with this winter weather, beaches in South Carolina and Florida don't tend to have this problem!
10. Beachside Homes Are Great for Raising a Family
The beach presents many opportunities that simply aren't available elsewhere, or at least not to the same degree. Many beach areas are filled with small, local businesses, for example, which provide ample opportunities for teenagers to get work experience. Similarly, the relatively nice weather enables families to spend more time outside, helping them to make more meaningful memories together.
If that weren't enough, many popular beach areas are experiencing a major boom in size, which contributes to the quality of education and housing available in the area. Many of these areas have great public school systems, and this trend is likely to continue in the future.
Thanks for reading our post on the advantages of owning a house near the beach! As a family who lives near the beach, we can personally attest to each of the advantages listed in this post. While there are certainly a few drawbacks here and there, we truly feel that living near the beach is ripe with positive aspects and advantages that are hard to find anywhere else.