8 Innovative Approaches to Converting Offices – As office space utilization declined throughout the pandemic, the prospect of converting office buildings to accommodate other uses has been widely discussed. But this type of opportunistic investment is complex, risky and time consuming, and the current CRE credit crunch, along with municipal restrictions, mean that few construction-starts are taking place.
Despite these challenging conditions, office conversions (also known as adaptive reuse) are indeed occurring, albeit slowly, and every day there are more examples of completed projects.
To provide inspiration and information for investors who are exploring the possibility of, or are actively involved in, an office conversion project, LoopNet compiled eight articles that consider office adaptations from a variety of perspectives. Some profile completed projects, while others discuss regulatory changes and strategies that investors, municipalities and others are employing to make these conversions financially feasible.
The articles cover conversion of two former office buildings in Chicago, vertical farming in Calgary, innovative zoning in Arlington, Virginia and a premium conversion in the United Kingdom. The benefits of a den over a bedroom are explored, as is key criteria that makes an office building a good candidate for a residential conversion.
1. Underutilized Office Properties Could Represent Residential Conversion Opportunities
In this article, two prominent architects recount the history of office to residential conversions in New York City and outline the attributes that make an office property a compelling candidate for conversion to multifamily use. These aspects include smaller floor plates, courtyards and setbacks that enable the addition of terraces and balconies, as well as large windows and ample ceiling heights for natural light. Buildings with unique facades or eccentricities are also great candidates because they can result in distinctive spaces that add to the appeal of the building.
2. Inside the $500M+ Renovation That Transformed an Iconic Skyscraper into a Mixed-Use Destination
The user experience inside the former Sears Tower, renamed Willis Tower in 2009, did not meet the needs of its 15,000 office workers or 1.6 million annual visitors to the Skydeck. It also failed to attract the 170,000 Chicagoans who work within a five-minute walk of the skyscraper. With a focus on ways to improve the experience of these three major user groups, the redesign centered on retail, food and beverage offerings. These offerings were missing from Willis Tower itself, but also from that part of the Loop neighborhood.
3. Empty Offices Could Become Breweries, Labs and Distro Hubs in Arlington Zoning Change
In Arlington, Virginia, the municipality has taken an aggressive approach to alleviate its office vacancy problem. New use categories are being proposed, and some have been approved, to allow for a rich variety of activities including micro-fulfillment centers, higher education, animal boarding, artisan beverage making, artisan workshops, urban agriculture, digital gaming, indoor recreation, audio-visual production, wet labs, medical and dental practices, food delivery services and ghost kitchens. Zoning ordinances are being modified to include these uses "by right" so building and business owners can avoid lengthy rezoning processes.
Read More : Mypass-a-grille.com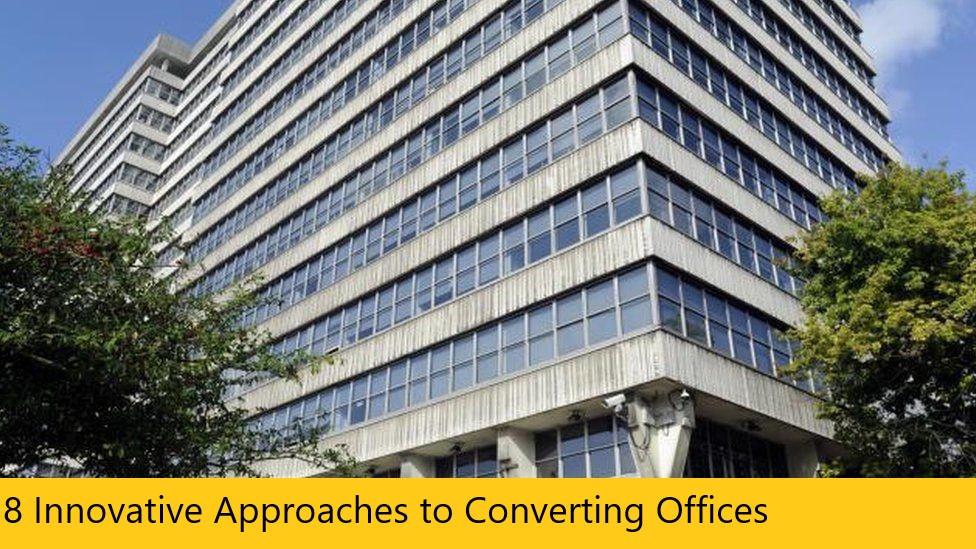 4. How One Company Became a Leader in the Life Science Conversion Process
To help meet exceptional demand for life sciences facilities, one of the largest lab space owners in Quebec developed expertise in the conversion of industrial and office buildings into life sciences spaces. In some cases, the base building represents just 20% to 30% of the total project cost. This means that key to the company's success is its ability to manage project complexities, delivery times, equipment availability, intricate ventilation systems, etc.
5. Is Vertical Farming a Green Solution to Office Vacancy?
A Canadian-based company has developed equipment and technology that allows vacant office space to be used to profitably grow up to 150 different crops of fresh produce for local markets. Characterized as "elevated urban farming," a showcase facility in Calgary occupies 65,000 square feet of former office space. The firm is now licensing its technology internationally and is set to launch an updated version of its AI-powered vertical growing system, which uses only about 750 watts of power per 4-by-8-foot module, roughly the same energy burden as a personal computer.
6. Overcoming the Challenges (and Stigma) in an Office to Residential Conversion Scheme
One example of a high-quality office to residential conversion is Prospect Quarter, a UK project characterized by a blend of Art Deco and Midcentury Modern design. The finished product features 24 flats that include studio, one- and two-bedroom units, parking spaces and an outdoor garden. Such projects can be simpler to undertake in the UK than in other parts of the world, because of permitted development rights that enable office building owners to convert office structures to residences without undergoing a full planning review and approval process.
7. How One of Chicago's Most Iconic Office Towers Became Luxury Condos
Built in 1925 and formerly the home of the Chicago Tribune newspaper, this 35-story tower took roughly 10 years to convert into luxury condominiums. While the limestone tower was designated a historic structure, neighboring buildings on the site lacked historic protective status and could have been demolished. But the development team opted to mostly preserve the entire site, which sits in a prized location on Michigan Avenue near the Chicago River and features 56 different floor plans for its 162 units.
8. Office to Residential Conversions: A Den May Help the Numbers Work
Units with two bedrooms and two full baths — totaling approximately 1,200 square feet — are the bread and butter of the multifamily housing industry, whether projects are intended to be sold or rented. But while working on an adaptive reuse project that involved converting a downtown D.C. office building into condominiums, this developer swapped one of those bedrooms for a den. Never having tried this before, the owners were relieved when this design sold briskly, mostly to single women.