8 Things Nobody Tells You – A sunset view, piña colada in hand, and your own slice of beachfront property… it's what keeps me binge-watching "Beachfront Bargain Hunt." But from the inevitable environmental concerns of sea levels rising to pesky (and expensive!) HOAs and complicated zoning laws, buying a house at the beach isn't always a breeze.
Realtors from California to Florida and beyond weighed in on the eight concerns and considerations they wish buyers had to go into their beachfront house hunt with clear eyes (and hopes of clear water).
In some towns, beach communities are full of HOA-run neighborhoods, which is not something every buyer realizes or considers. The costs can add up. Real estate broker Theresa Raymond says, "If your home is within an HOA community, you are bound to pay their regular fees for everything."
Dan Driscoll, co-founder of Boutiq, a startup that connects buyers with vacation rental properties, explains that there are questions to ask beyond what the HOA monthly or annual fee is. He recommends digging into the rules and regs in the covenants, conditions, and restrictions (CC&Rs) to determine whether the HOA board is developer/declarant-controlled or elected by homeowners. "The age of the community may mean that HOA fees are artificially low in order to move homes, but as it becomes more established, HOA fees may rise considerably," Driscoll adds.
Sea Levels Should Be a Top Concern
You've read the stories. Sea levels are rising and oceanfront beach homes will be the first to bear the brunt. Mitchell G. David, founder of Beach Life Ocean City, explains that buyers can get caught up in the emotion of buying a beach house and neglect to consider the looming environmental concerns.
"Consider whether the beach house you are buying is far enough above sea level," David says. "You are likely to face consequences in the near future if it's not." Also, don't forget that high and low tides have an impact. Low tide may look like smooth sailing, while high tide brings the ocean's reach within feet of your doorstep.
Zoning Could Have an Impact on Your Views or Plans
"Make sure you are well versed in short-term rental and zoning laws," says DJ Olhausen of Realty ONE Group Pacific. Vacation destinations across the country are passing laws that cap the number of short-term rentals or place restrictions on who can rent out their home and when. Speaking to new laws in his hometown of San Diego, Olhausen says, "Only those homeowners who are chosen from a random lottery will be allowed to hold a license to rent for shorter than one-month periods." If buying your dream beach house involves relying on rental income, check on zoning laws before you make any moves.
Additionally, Olhausen points out that zoning laws are critical to beachfront properties. "No one wants to purchase a new beach house with a view only to see a four-story building erected next door," he warns.
A Coastal Home Inspector Is a Must
The wear and tear on a beach home is totally different than a home in a city or suburban neighborhood. Jeff Tricoli of the South Florida-based Keller Williams Tricoli Team explains, "Unless an inspector is expert enough with coastal properties, you should resist the temptation to hire them. Beach homes are subject to a highly corrosive environment and can have unique issues." There may be roofing, window durability, or siding issues that a standard inspector could miss — and you don't want to end up with an unexpected repair bill months later.
Your Location Determines Sunrise or Sunset Views
Water views are stunning, but they're made even more stunning by vibrant sunrises and sunsets. Those are what Instagram visions are made of, right? That's why California-based broker Martin Carreon recommends figuring out which you prefer before taking the plunge with a beachfront house. "If you would love to watch the sunset, go for west-facing homes," Carreon says. "If you prefer sunrise, get a home where you will face the water when the sun rises from the east."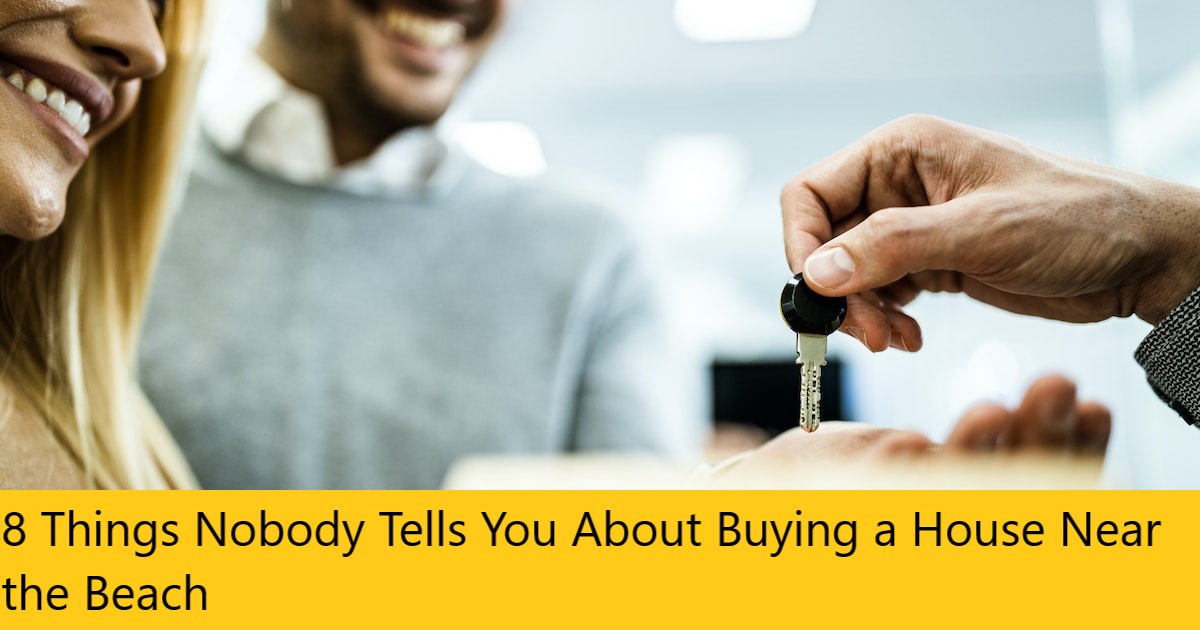 But Direction Means More Than Just Views…
Sunset and sunrise are the benefits of an east or west-facing home, but there's another, less glamorous consideration. Tricoli tells buyers to pull out their compass and put on their meteorologist hat. Typical wind patterns determine whether your home could be more susceptible to storm damage. "West-facing homes are much more prone to storm damage compared to south-facing homes," he says.
Read More : Mypass-a-grille.com
Traditional Homeowner's Insurance Won't Cut It
Rena Pacheco-Theard, CEO and cofounder of Boutiq, a luxury vacation rental provider, offers practical advice to future beachfront buyers, "Traditional homeowner's insurance isn't sufficient and flood insurance won't protect you in the event of a hurricane." She recommends a wind insurance policy, which will cover wind-driven rain damage, but warns that the cost and availability of this coverage can vary significantly.
Beachfront homes will require more comprehensive coverage than the average home, and you may need to rebuild or renovate extensively every 20 years or so. "With severe weather becoming more common, buyers should be prepared for more frequent significant weather events," Pacheco-Theard adds. "You need to have plans to protect the home if you're in the path of a hurricane, including ensuring that someone will be available to perform them if you are not at the home yourself."
Know the Ins and Outs of Your Beach Access
There's something to be said for buying one or two houses back from the water. You won't have a front row seat to erosion (at least not yet), it's less expensive, and your home won't see the same level of wear and tear from wind, water, and salt. But it also means you won't have beach access right out your front door.
Pacaso chief acquisitions officer Joe Maehler is well versed in helping beach lovers find their dream home, and he advises buyers to consider several beach access questions. First, is it a wet or dry beach? Dry is often preferred if your ideal beach day includes laying in the sun. He says, "If it's on a busy road, where on the road is the home located? Can you exit and enter your home safely?" and, "If it is not on the beach, where is the nearest public beach access with parking?" Keep in mind, you may be one house away from the water, but if the nearest access is a drive, rather than a walk away, is that something you're okay with?