5 Beautiful Beach Homes – Owning a home at or near the beach is at the top of many peoples' lists of most-desired places to live. Considering how old some coastal homes are, that dream has been a long-held one for many generations. The clean air, the soft breeze, the smell of salt with an occasional hint of sunscreen, the touch of ocean dampness, and the calming sound of waves with a distant foghorn continue to provide sensory experiences that lure people to the edges of continents.
A House for Every Beach Lover
Architectural styles for beach homes vary, often dictated by local materials, weather events (hurricanes), and the population and history of a coastal community. Many beach towns began as destinations near cities (think Los Angeles and New York), where people could own a second or vacation home. As cities spread, they caught up to the beach towns, making it possible to live in a coastal community and commute to work. Smaller towns—from Maine to the Carolinas and Florida to the gulf—have grown since their vacation getaway beginnings. Some people put down roots in once far-off beach towns, many continue to own vacation cottages, while others retire to places they've always dreamed about.
Like any type of house, beach houses vary in style and size, especially as they've transitioned from vacation to permanent homes. Enjoy a tour of 15 very different houses with one thing in common: they're all within steps of the beach.
1.
Beach Cottage with Pickle Court
An old fishing cabin on the beach at Whidbey Island's Penn Cove, famous for its delicious mussels, was torn down to accommodate a new home built with vintage architectural elements. Sykora Design of Seattle created a traditionally framed structure with cedar shingle siding and a composition roof. In a salute to the area's beginnings, the siding was installed in a historic pattern called the 6″/2″ pattern, while interior walls and ceilings are covered with white-painted pine to give it an "old cabin" feel. Refurbished ship parts were also added, including light fixtures and authentic brass portholes installed in the beach-facing gables. For extra fun, the home has its own pickleball court.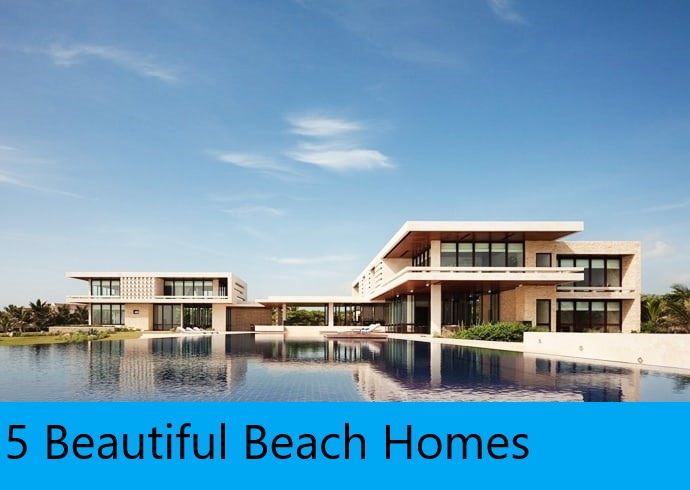 Read More : Mypass-a-grille.com
2.The SeaFoam Bungalow
Working with the homeowners, who relocated from Texas to South Florida, Tuthill Architecture created a home located in one of Fort Lauderdale's waterways that captured the region's indoor/outdoor lifestyle. Together, they designed a home that's coastal, with a seafoam green color palette and accents of grey and white. Palm trees complete the picture of tropical perfection.
3.Beach Shack-Style Home
A remodeled beach shack feels bigger than its 2,000 square feet, thanks to some smart design ideas by Stephen Dalton Architects. Three distinct roof forms are arranged around a central roof deck, with the high-sloped roofs clad in standing-seam metal that creates vaulted ceilings in the main rooms of the house. Vaulted ceilings add height to the interior, along with oversized windows that also blur the transition from indoors to outdoors. The "shack" is located in Solana Beach, about 20 miles north of downtown San Diego.
4.Dana Point Beach Digs
A 1950s beach cottage in the small Southern California coastal city of Dana Point received a renovation and addition that was inspired by its Mid-century roots but designed with a modern aesthetic that now adds more room and updated features. The project, designed by MYD Studio, introduced angles, a flat roof, oversized black siding and plywood that accommodate a new side entry, larger rooms, and two new bedrooms downstairs.
The home's bold black-and-white palette highlights the juxtaposition of old and new, complementing the colorful, light-filled interior with an eclectic style that's reflective of its unique South Orange County location and coastal lifestyle.
5.Puget Sound Home
A former cabin on the waterfront side near Gig Harbor in Washington's Puget Sound was rebuilt as a new 3,200-square-foot shingle-style vacation home by BC&J Architecture. With a nod to its seafaring origins, BC&J added a whimsical crow's nest (a structure on the upper part of a ship or home used as a lookout and a 500-square-foot bunk room for guests that's connected to the main house via a bridge with built-in storage and a window seat. Nautical indoor details include paddles integrated into the stair rails, "weathered" flooring, marine-cleat hardware, and a boardwalk main entry with nautical lighting.